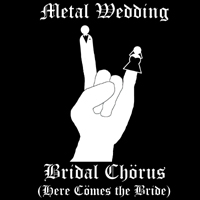 Metal Wedding: Bridal Chorus

An orchestra of soaring electric guitars performs The Bridal Chorus (Here Comes the Bride). Metal in spirit, glorious in its grandeur, this two minute arrangement is respectful of Wagner's original, while featuring fiery intensity, sensitivity, and resplendent heavy metal guitar tones.

This version of The Bridal Chorus is for the betrothed couple that flaunts a metal edge. Perfect for Queen fans, metal heads, or genuine lovers of rock guitar. Play it during the wedding processional, the reception, or the after-party. A very unique and personal gift!

(Punos Music,PM0010).