Ice Cream Time
for saxophone quartet, electric guitar, and live electronics
Upcoming performances:
Ice Cream Time comes to
Philadelphia Museum of Art
(May 17, 2013) and
Roulette in NYC
( May 19, 2013 ) with
PRISM Saxophone Quartet
!
Ice Cream Time is a new musical performance that explores, bends, then shatters musical boundaries.Commissioned by the world-renowned ARTE Saxophone Quartet, Ice Cream Time was composed by Nick Didkovsky, best known for his work with Doctor Nerve, Fred Frith Guitar Quartet, Meridian Arts Ensemble, and Bang On A Can.


Ice Cream Time features electronics virtuoso/maverick Thomas Dimuzio, who processes the sound of the ensemble in real-time using unorthodox techniques he developed on the Kurzweil KS2600 sampler.Also in the mix, custom software programmed by Didkovsky using his own computer music language JMSL, which radically transforms the sound of his live electric guitar.The virtuosity of the ARTE Quartett is given plenty of space with a complex, high energy, and deep listening compositions that extend the possibilities of the ensemble.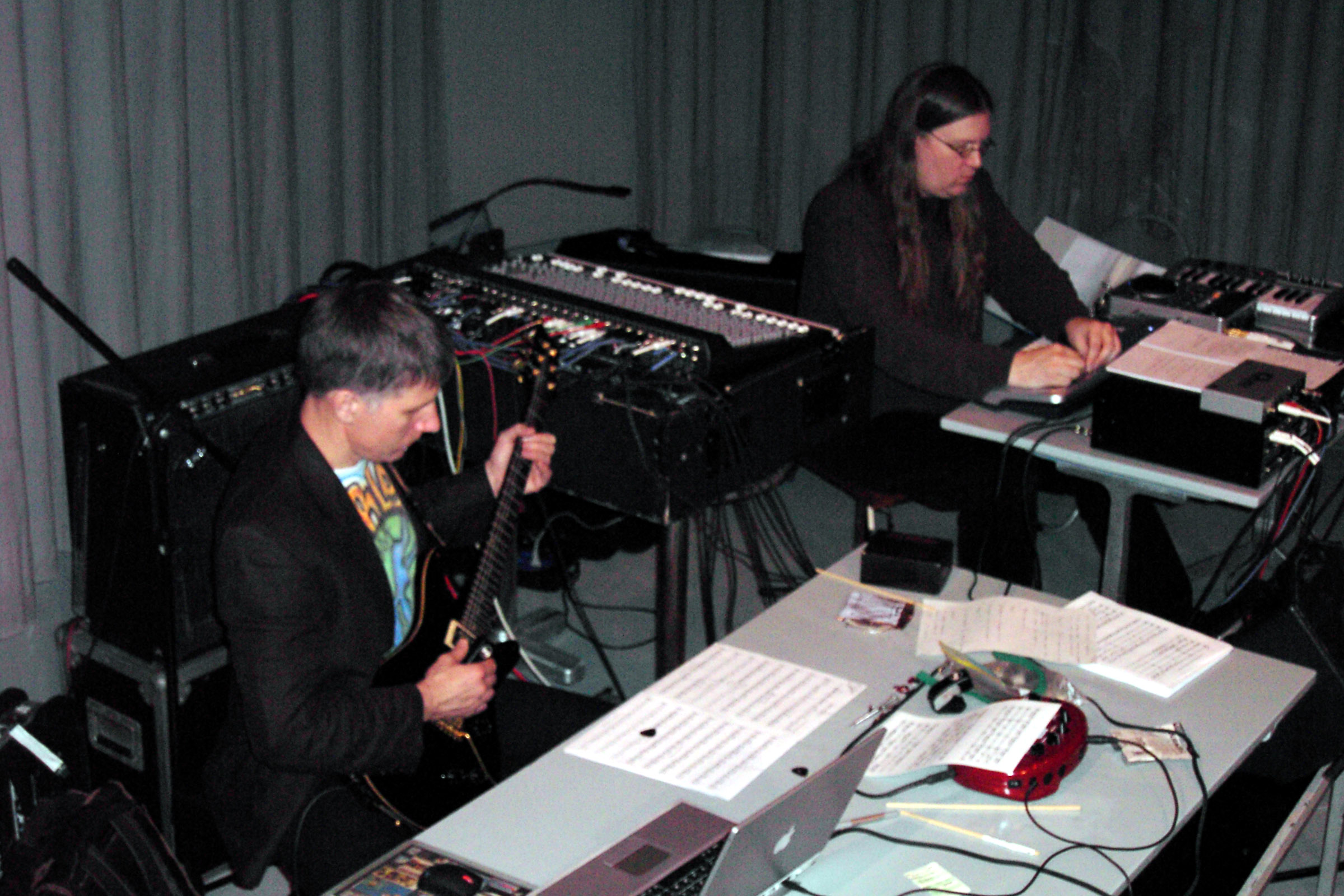 Nick Didkovsky and Thomas Dimuzio
Ice Cream Time runs through extremes of rock energy, complex rhythms, intricate counterpoint, explosive improvisation, and highly detailed sonics, drawing the audience deeper and deeper into a uniquely conceived world of sound.
Ice Cream Time premiered at the Theater Palazzo in Liestal, Switzerland on April 11, 2003

One sheet
Festival Review in All About Jazz

Past performances:
5th of march 2009, Muenster, CUBA, Germany, 8 pm, http://www.muenster.org/cuba/
7th of march 2009, Forli, Area Sismica, Italy, 10:30 pm, http://www.areasismica.it/areasismica/
8th of march 2009, Lugano, Conservatori della Svizzera Italiano, Oggi Musica, Switzerland.

Personnel (left to right):

Nick Didkovsky - electric guitar, laptop

Sascha Armbruster - alto sax, baritone sax

Beat Kappeler - baritone sax

Andrea Formenti - tenor sax

Thomas Dimuzio - live sampling

Beat Hofstetter - soprano sax, baritone sax
CD RELEASE ON NEW WORLD RECORDS
Ice Cream Time is available on
New World Records (NWR 80667)
Ice Cream Time was composed by Nick Didkovsky, and distributed to the ensemble over the www. Didkovsky used JMSL Score to deliver performable scores, provided PDF files of the scores and parts, and mp3 files of computer performances. Visit the Rehearsal Page

Contact: NickDidkovsky,
Email: nick@didkovsky.com
http://www.punosmusic.com/pages/icecreamtime
Punos Music Home