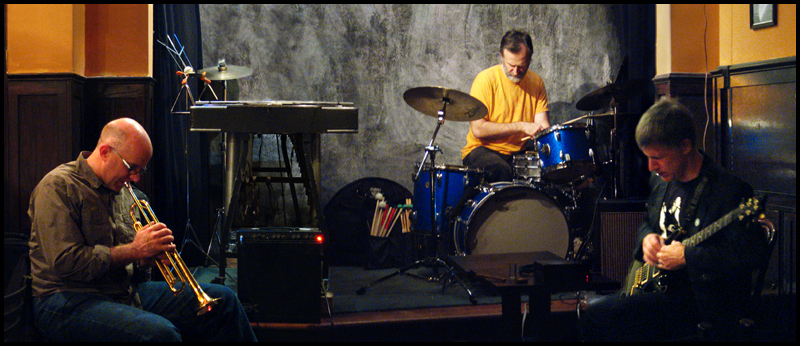 Photo by Scott Friedlander
Zinc Nine Psychedelic is a trio dedicated to performing improvised music with traditional instruments and electronics.
Personnel
Dave Ballou - trumpet, electronics
Nick Didkovsky - guitar, table top guitar, and homebrew software
Kevin Norton - drums, percussion
Zinc Nine Psychedelic live at The Cell (DVD)

Back in production!
DVD of Zinc Nine Psychedelic performing at Tribeca New Music at The Cell 2009. Legendary concert, two camera shoot.

Live at Jimmy's #43, digital:
Bandcamp, or iTunes Music Store



Live at Jimmy's #43, physical CD (professionally manufactured CD-R):


[1] Kaleidoscopic (8:18)
[2] Diffraction (3:23)
[3] Cortex (7:22)
[4] Seeing Stars (9:04)
[5] Electricity (6:17)
[6] Focus (5:10)
[7] Zap (1:41)
[8] Transformed (9:52)
[9] Woodcut (5:37)
[10] Sleep (5:17)


About the CD
On November 5, 2006 Zinc Nine Psychedelic performed at Jimmy's #43 in New York City. Instead of playing two sets as originally intended, they started early, skipped sound check, and just kept going... performing almost three hours without interruption. The evening's extraordinary performance was recorded with meticulous care by Scott Friedlander, and edited down to just over an hour by Nick Didkovsky at Punos Music Studios. The result is this, their debut CD entitled "Zinc Nine Psychedelic" (Punos Music, PM0008).
Zinc Nine Psychedelic is something else. "Kaleidoscopic" sounds like a dream as it floats in with eerie electronic trumpet, streams of softs notes tapped on the guitar and insistent jazzy cymbal work. Nick eventually wails pulling off a nifty, slow-burning guitar solo. Kevin's drum solo at the beginning of "Diffraction" is crafty and propulsive, while Dave's solo on "Cortex" is slightly twisted with haunting bowed cymbals and floating electronic sounds. Many of the pieces flow into the next with certain sounds being transformed as they evolve. Nick mentions in the liner notes that this music should be played loud, yet things often occur on a more subtle level. I dig the restrained yet spiraling acoustic vibes solo on "Seeing Stars" which leads to a dreamy free floating guitar near the end. Nick plays some delicate Frith-like guitar (by tapping on the strings with an object) at the start of "Electricity", with a layer fractured trumpet and suspense-filled bowed cymbals. Each piece unfolds organically like a story being told with different scenery or dialogue occurring as the sounds shift into another gear. Things erupt on "Focus" with some more intense moments warping into view. Sometimes improvised music is magic that can't really be explained but you know when it happening. This is that magic music.

- Bruce Lee Gallanter, Downtown Music Gallery